In Myanmar we collaborate with anthropologists from the University of Köln in Germany  through the co-supervision of a PhD Student. Anthropological research revolves on how people live and shape a delta environment through empirical case studies in two areas of the Ayeyarwady delta: the largely rural Mawlamyinegyun township where farmers cultivate rice by following the regular fluctuations of the tide, and the Nyaungdone township that has witnessed rapid and dramatic changes over the last decade (development of aquaculture, shifting river banks, etc.).
This in-depth research is replaced in the broader perspective of (1) the historical development of land and water management infrastructures in the delta (stressing the existence of iconic infrastructure such as horseshoe embankments, polders and sluice gates) and (2) current efforts supported by the Dutch cooperation (see illustration) that aim at developing an integrated strategy for the management of the Ayeyarwady Delta (see Venot, 2018 for more details).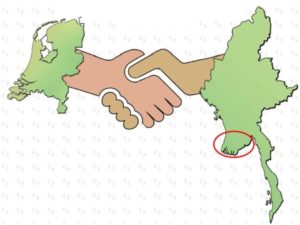 The research specifically focuses on understanding how a Dutch-led knowledge-and-development network has progressively structured and "anchored" itself in Myanmar, how it relates to other development initiatives that deal with integrated water management in the country (notably the AIRBM project funded by the World Bank), and stresses the political and contested nature of strategic planning exercise and the knowledge claims associated to it. This component of the research echoes studies conducted by other team members on delta planning in the Vietnamese Mekong delta and Bangladesh.
Finally, in a political ecology perspective, the project financed a study aiming at analyzing the sedimentation and erosion dynamics along the main stream of the Ayeyarwady delta. We aim at linking in-depth understanding of agricultural practices and land tenure dynamics with a sound biophysical understanding of the Ayeyarwady delta environment.
This research has led to a publication analysing the discourses and policies with regards to water infrastructure development in the Ayeyarwady Delta (Ivars and Venot, 2019).